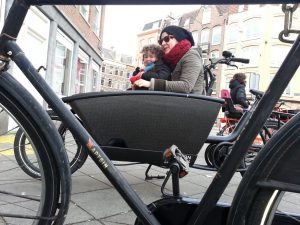 The very best solution for both families and entrepreneurs!
Riding a bike through Amsterdam is wonderful, but with all those little bridges one can sometimes use a little bit of extra pedal power. The Urban Arrow is a modern electrical cargo bike that will transport you (and your items) through the city in no time. Are you moving soon, or thinking of taking the kids out for the day? With the Urban Arrow it is simply a piece of cake. The Urban Arrow cargo bike is also perfectly suited for business transport: the long frame gives plenty of extra space for baggage. Looking to rent an Urban Arrow? It's easy and quick at BiciCare!
| | |
| --- | --- |
| Rental price | |
| 1st hour | € 10,- |
| 2nd hour | € 5,- |
| 3rd and following hours | € 2,50 per hour |
| Max price per day | € 37,50,- per dag |
| Insurance | (see Terms & Conditions) |
| Renting period 1-3 hours | € 2.50,- |
| Renting period 24 hours | € 5,- |
| Deductible excess | € 350,- |
| Deposit (obligatory) | € 350,- + copy passpoort |
The maximum renting period is 7 consecutive days.
Request renting an Urban Arrow right away
Try an Urban Arrow for free
Try before you buy! BiciCare is the only official dealer that also rents out Urban Arrow cargo bikes. That is why we give you the option to rent the Urban Arrow for 24 hours and see if it really suits you. The perfect opportunity to find out if the cargo bike fits into your daily activities! If you end up falling in love with the Urban Arrow and decide to buy it (and we are pretty sure you will!), then we deduct the renting fee from your purchase. You will be 100% sure you made the right choice!
All details about renting an Urban Arrow
This modern electrical cargo bike has been developed and produced in the Netherlands, and offers everything that you can expect to transport your children or belongings in a safe, comfortable, and dry manner. The electrical pedal assistance will maneuver you through the city safely and swiftly. The bike is excellently suited to carry children: because the children are seated lower than in other cargo bikes, so is the center of gravity. This gives the Urban Arrow cargo bike a perfect grip on the road. Your children will constantly be protected by the robust EPP-booth, which can handle a bump or two. Safety first! The Urban Arrow family edition already won the Eurobike Award in 2010 and is equipped with the newest Bosch middle motors since 2014.
BiciCare is the only Urban Arrow dealer in Amsterdam and its surroundings where you can rent the Urban Arrow!
Rent the Urban Arrow cargo bike for the number of hours or days that suit your schedule best. And if you don't manage to get everything done within the set timeframe, you just rent the bike for a couple of days more. Easy does it.
The maximum renting period of an Urban Arrow bike is 7 consecutive days.
Depending on the weight of the cargo, the driving style, the weather, and the chosen support, a full battery takes you as far as 50-70 kilometers, or 31-43 miles. Need to cover a larger distance? No problem at all, we will provide you with an extra charger so that you can always charge the battery: in any plug, at any time.
The electrical Urban Arrow cargo bike can be adjusted with extra accessories on request. The bike is standardly delivered with a seat that has room for two children. Additionally, we can mount, for example, an extra seat in the cargo bike for a third child; a base to fit a child seat on; or a waterproof rain hood to keep the children and the items dry while being transported.
As a deposit we ask to leave behind a valid identification card, drivers license, or passport, as well as a € 350 deposit. Additionally, you can insure the Urban Arrow for € 6 when renting it for 1 to 3 hours, and for € 15 when renting the Urban Arrow for the full day. Every rented Urban Arrow cargo bike is equipped with two seats.
TERM AND CONDITIONS
The rental agreement is composed for the rental of bycicles en/ of equipment from Bicicare ( Lessor) to individuals and commercial enterprises ( Lessee)
RENTAL AGREEMENT
Lessee will receive the bicycle and/or equipment in good condition and is responsible for returning them in the same condition. Therefore the lessee is liable for damage to the bike inclusive reparation and part costs.
RENTAL PERIOD
We offer a flexible renting period split in different time frames, this means that you are welcome to rent the bike according to your specific needs.
(Urban Arrow's)
1st  hour  € 10
2nd hour  €   5
3rd  hour onward € 2.50 for a maximum of € 37.50  for a day.
(City bikes)
3 hours € 7.50
1 day backpedal brakes   € 12.50 extra day € 10
1 day handbrakes/gears € 15 extra day € 10
The Lessee is responsible for the bike and/or equipment during the whole rental period. Lessee must return the bike on time.
City Bike returned after the agreed renting period will be charged with a minimum of 3 hours price unless other agreement are made.
Urban Arrow can be returned after the agreed time ONLY after you check with us ( at least 1 hour before your contract expires) for availability. In case of prolongation you will be charged € 2.50 per hour ( this is only applies to rental longer than 1 day)
In the unfortunate event the bike has not been returned in time without permission from Bicicare a € 50 fine will be applied next to a full day charge.
Early return will not be refundable.
It's not under any circumstance allowed to leave the bike behind in case of malfunctioning unless you got permission from Bicicare to do so.
It is possible to return the bike outside opening times. Lock the bike properly on one of the bike rack in front of the shop, put the keys in the special letterbox, send us a whatsapp message with your name, picture of the bike. Rental will stop once we receive the confirmation message. 
DEPOSIT
As deposit your are required to leave a copy of your passport or ID card and € 350 ( FOREACH URBAN ARROW) and € 50 (VOOR EACH CITY BIKE
INSURANCE
We offer an insurance which cost between € 2.50 for Citybike and € 5,00 for the Urban Arrow for 24 hou
The insurance covers theft of the bikes excluding dashboard and key
With insurance you keep a deductible of € 350
Without insurance you will be charged € 3300,-to replace the bike( URBAN ARROW) and €300 (CITY BIKES) in case of theft.
In the unfortunate event of a stolen bicycle, you must report this to us as soon as you can.
The insurance is only valid if you are able to give both keys of the bike to Bicicare If you cannot give both keys in the event of theft, you will be charged the new value of the bike, which is € 300,- and for cargo € 3300.
Flat tires are never included in the insurance
LOCKING THE BIKE
Each bicycle is equipped with two locks. Never leave the bicycle unattended, unless properly locked. We demonstrate prior departure the proper use of the locks.
GENERAL
 One day is considered to be 24 hours
With every bike rental longer than 1 day you will receive a battery charger.
If you experience any problems with your bike, please contact us directly.
Bicicare does not reimburse any repairs performed by other companies. (Urban Arrow can only be repaired and serviced by official dealers)
Payment for the rental period and deposit is due before collecting the bike.By renting a bicycle and/of equipments,from Bicicare you are acknowledging that you have read the term and conditions and agreed to comply to it.